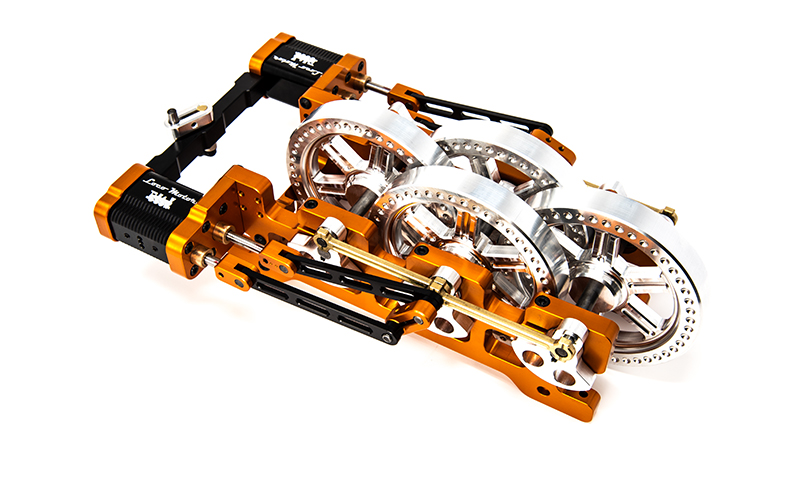 PMW
Locomotor
Mighty steam locomotives and determination connected Canada from coast to coast in the late 1800's and at Progressive Machine Works we wanted to create something to remember both the technology and the people who worked so hard to make it happen.
Specs:
Minimum air requirements: 3.8 PSI at 1030 GPH. (Commercial air pumps for large aquariums are one option as an air supply to make the Loco-motor operational. Please verify that their output meets the minimum requirements and that you follow all of the manufacturers safety recommendations.)
Please contact us for shipping rates. Specifications may change as may the available colors. Prices do not include an air supply.
All aboard!
Our Locomotor is a representation of how steam locomotives functioned in a bygone era. Made from 6061 billet aluminum and powered by your air supply, the Locomotor highlights the steam drive mechanism that moved people and products from one end of Canada to the other. The function of the drive mechanism is fun to watch and the chug, chug of the air pistons as they move back and forth in their housing will bring back memories of a simpler time.
The Locomotor is available in two forms
Either as a kit or as a fully assembled unit. Both versions are anodized and several colors are available to purchase. The colors that are available are: green, red, orange, blue, and purple. We can also provide a bare aluminium option if you would like to select your own colors.
The kit and the assembled model include quick connect air fittings to power the model from your air supply. Included is a throttle mechanism and we also supply air flow restrictors should you decide to power the Locomotor with a larger compressor motor (up to 120 psi). For the Locomotor to function at lower air pressures, you may need to remove the restrictor if you are near the minimum air requirements designated below. The restrictors are brass set screws that are easily removed from the front cylinder caps as shown in the instruction sheet.